Milk Based Winner – Oceana Coffee Roasters
Scott Angelo has just won a Gold Medal for his Milk Based Coffee in the inaugural Compak Golden Bean North America in a category of over 100 entries.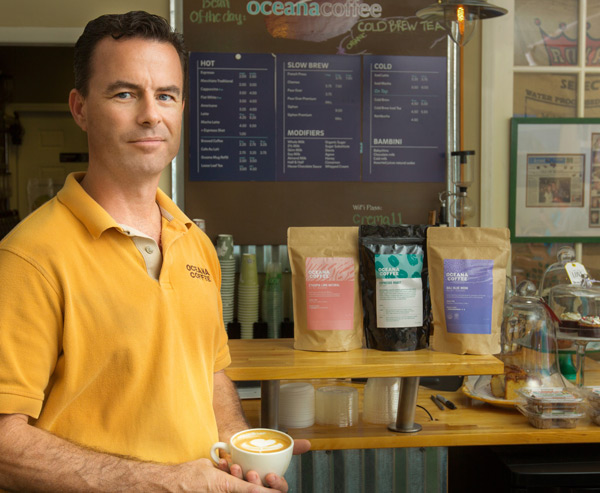 Scott's Story
I was born in Sydney in NSW but grew up in Brisbane QLD. I joined the Navy at 16, and then while still young I got out and worked in private industry, starting in Port Macquarie before returning back to Brisbane. A Marine Engineer by profession.
I always enjoyed great coffee and my first memories were of a store in a shopping center on the Gold Coast, picking up bags of fresh roasted coffee.
I have a great group of mates back home in Brisbane and one of them, Joseph Marvilla was the coffee snob at the time, mid 1990's. So we always went out to cafes looking for a great cup, time for a catch up etc.
Then in 2001 I decided to chase the green back USD (at the time it was 2x AUD) as a Marine Engineer on private yachts (150′ to 300′).
This was a fantastic experience, travelled the world with on these yachts for nearly 10 years and along the way I lived in Italy for 6 months where a cappuccino starts the days and espresso shots keep it going, so my love for coffee developed even more.
I got out of the yachting game and moved back to Brisbane 2006. Back amongst my mates and out visiting cafes again, with a new appreciation for a great espresso shot. I was introduced to Di Bella's coffee and on my 40th birthday I was given a single group head espresso machine by all of my friends and family. So I kept buying my coffee direct from Di Bella's roasting outlet every week. At one time my wife and I were reselling Di Bella coffee to yachts in the South Pacific.
Fast forward slightly, I landed a job offer back here in the USA on yachts. It was too good to refuse so we moved the family back (side step……my wife Amy is a USA girl, grew up around the area we currently live). Unfortunately the job fell through not long after…
Here's where it gets fun, we shipped everything over from Oz, including espresso machine! Only problem was that it's 240V and USA is only 110V EXCEPT for their ovens and laundry dryers etc. So luckily my father inlaw let me do some re-engineering of his kitchen to install a 220V outlet, 'voila" home installed espresso machine back in play.
THEN…this place was full of awful coffee, I tried everything on the shelves, everybody here was raving about Starbucks so I tried everything they had as well but found it was not to my Australian palate, so I started shipping Di Bella into the states!
Then I jumped online and started ordering coffee from coffee roasters all around the US. There was not so many back in 2008. I bought a bag from George Howell and it blew us away, so being very Australian I had to find out how I could do that for myself every cup. I jumped into a ton of forums, books etc. and found out about home roasting, also found a story about building my own home roaster. So I did!
I bought a popcorn popper on eBay for $35, converted the electrical circuits in it for better control and started roasting my own, buying all sorts of green beans from Sweet Maria's.
From there I converted a Webber gas grill to a 4lb roaster. Roasting out of our garage, selling to family, friends and a whole lot more until we were found out by Florida food inspectors. Fortunately they were great and helped us with all the rules and regulations. Soon after we came across a reasonable deal to buy a used Diedrich.
Fast forward to now!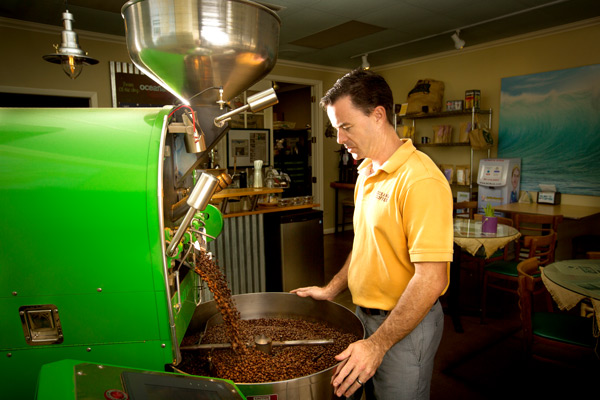 We are a small operation doing what we love. Last year we roasted only 27,000 lbs, this year we have roasted a lot more. In regards to our coffee and my style of roasting, I do my best to let the coffee origin speak for itself, one of the main attributes that I look to encourage out of the bean is sweetness. I think that is a definite strong point for us.
When I entered the Golden Bean Competition I thought it would be a great way to gauge how I do as a roaster, looking more for feedback than the HUGE surprise of winning 4 medals.
In my cafes I teach our baristas and the public about Flat Whites (traditional), Lattes and the more Espresso based milk drinks like we have back home in Australia.
Cheers
Scotty
Oceana Coffee
oceanacoffee.com